Trickle down economics works for sports owners https://www.youtube.com/watch?v=oReD1XGLHy4   The...
Nashville may be just a pipe dream. https://www.youtube.com/watch?v=UBmK64Ux3lM In June 2018, Baltimore...
ORLANDO – There are some days when everything goes right and Saturday it was Ignacio Piatti who had one of those very special days....
FloSports understands what makes compelling sports television is getting to know the people who are competing along with their backstories. Once you learn about the person, a sport you tend to become more connected with those sports making you more likely to want to see it.
Cities are looking a team. https://www.youtube.com/watch?v=EbDYbbIuAnQ It's Valentine's Day and a good time to see which cities are sending candy, cards and flowers to Major League...
The Donald Trump tariff on steel, rebar and aluminum has caused the estimated price of the renovation of the Seattle arena to rise by about one hundred million dollars. The Seattle project probably won't be the only sports plan impacted.
Miami voters will have the last say on whether international soccer icon David Beckham can build the stadium he wants for his Major League Soccer expansion team.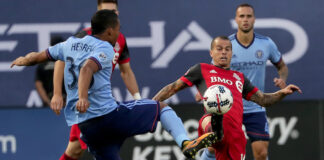 Ismael Tajouri-Shradi scored two goals and New York City FC blanked Orlando City SC 3-0 on Saturday night. The Libyan winger took a pass from Anton Tinnerholm in space, cut the ball to his left foot and tucked the ball inside the far post to make it 1-0 in the 35th minute.
Hamilton County, Ohio cannot pay the National Football League's Cincinnati Bengals ownership $2.67 million for the 10 2018 home game day costs. County officials have punted and will try to make the payment in 2019 and the Bengals ownership is fine with that.
Dominic Dwyer scored his 99th career goal off Sacha Kljestan's 86th assist and Orlando City beat the Philadelphia Union 2-0 on Friday night.