Miami voters will have the last say on whether international soccer icon David Beckham can build the stadium he wants for his Major League Soccer expansion team.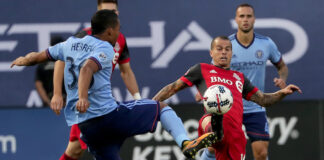 Ismael Tajouri-Shradi scored two goals and New York City FC blanked Orlando City SC 3-0 on Saturday night. The Libyan winger took a pass from Anton Tinnerholm in space, cut the ball to his left foot and tucked the ball inside the far post to make it 1-0 in the 35th minute.
Hamilton County, Ohio cannot pay the National Football League's Cincinnati Bengals ownership $2.67 million for the 10 2018 home game day costs. County officials have punted and will try to make the payment in 2019 and the Bengals ownership is fine with that.
Dominic Dwyer scored his 99th career goal off Sacha Kljestan's 86th assist and Orlando City beat the Philadelphia Union 2-0 on Friday night.
The first getting to know you meeting with potential owners of a Montreal Major League Baseball team and Mayor Valerie Plante took place last week and Plante seems open to support Stephen Bronfman and Mitch Garber's plan to bring a team back to the city.
Adam Silver's price for gambling? One percent of the take. https://www.youtube.com/watch?v=iu3-1L0KAHQ&t=7s American sports leagues and politicians are wagering that the Supreme Court of the United States...
Where have you gone Joe DiMaggio? https://www.youtube.com/watch?v=-UzzdHcyorA February is an unusual time on the United States on the sports calendar. Football says goodbye with the ultimate...
The best, most terrific https://www.youtube.com/watch?v=ZicNjXw2aYc It is that silly time of the year in sports journalism where some writers and editors put out lists of who...
Fred Wilpon's large campaign contribution to Andrew Cuomo has been noticed. https://www.youtube.com/watch?v=etpn91lLkBM There was, at least to New York Post editors, a curious contribution from the...
The Tampa Bay Rowdies earned the No. 3 seed after Saturday night's matches. They finished in a three-way battle for the top spot in the Eastern Conference behind Louisville and Charleston.