The struggle to find cities with the right stuff to join Major League Soccer continues but league owners should be happy with some of the latest developments.
Major League Soccer is waiting for the Austin City Council's decision to give the go ahead to a soccer stadium plan that would allow Precourt Sports Ventures to move its Columbus Crew franchise to the Texas capital in 2019.
Major League Baseball Commissioner Rob Manfred has expressed an interest in seeing his business add two teams in the future but before that happens, Manfred and his bosses, the 30 owners of Major League Baseball teams have to fix a problem.
Major League Soccer's expansion plan and a relocation attempt keeps running into hurdles. The owner of the Columbus Crew, Precourt Sports Ventures or PSV, wanted to move the team to Austin, Texas.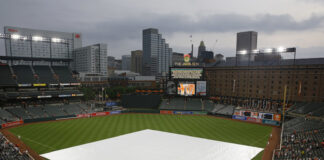 Rumor du jour. https://www.youtube.com/watch?v=nquO3G5tqMs&t=1s Baltimore Sun writer Peter Schmuck had an interesting column last week about the long term future of Major League Baseball's Baltimore Orioles...
Major League Soccer Commissioner Don Garber did his best retired National Basketball Association Commissioner David Stern impression last week following the announcement that FC Cincinnati will be joining the league as an expansion team in 2019.
Politicians push the bid over the finish line. https://www.youtube.com/watch?v=6xYtH6qoMGM&t=3s It appears that Cincinnati will be getting a Major League Soccer team this week or perhaps more...
Major League Soccer, which has had a terrible time finding expansion cities with a potential owner and a state of the art MLS stadium, is now watching a court preceding that could hasten or impede the Columbus Crew's ownership effort to relocate the team to Austin, Texas.
Major League Soccer has been trying to expand the number of teams in the circuit for more than a year now and it seems the league is stuck with less than ideal options for growth. The premise was to find four cities that had the right stuff to host as few as 17 games a year in a new facility.
The countdown to the kickoff of the 2018 NFL Draft can now be measured in hours. But the National Football League planning department is already looking ahead to the 2019 Draft which technically is the beginning of the 100th anniversary of the NFL.