Florida News: Nassau County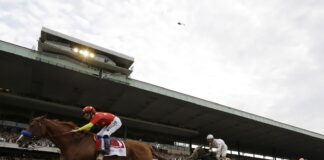 It's not 1950 anymore. https://www.youtube.com/watch?v=TUmZN45Auo8&t=4s There is a big thoroughbred horse race...
The arena allegedly is going to arrive by 2021. https://www.youtube.com/watch?v=YvcRgVcmvpM The public hearing phase of the whether there should be an arena built in Elmont, New...
Here is a question worth asking. What is going on with James Dolan and his Madison Square Garden business? Dolan is apparently getting in and out of the arena and entertainment building business on one hand and yet continuing building entertainment venues on the other hand.
The National Hockey League is probably going to set up shop in Seattle sooner than later which would allow the franchise owners to keep all of the revenue from a renovated arena. Is that a sticky problem for the NBA to overcome if the league decides to return to Seattle? Maybe.
On October 2, a group of Seattle investors will make what might be their final pitch to the 31 National Hockey League owners in an effort to land an expansion franchise that could start in 2020.
The Donald Trump tariff on steel, rebar and aluminum has caused the estimated price of the renovation of the Seattle arena to rise by about one hundred million dollars. The Seattle project probably won't be the only sports plan impacted.
The National Hockey League could grant Seattle a conditional franchise today. But the people behind the Seattle NHL expansion bid already have NHL ties so it would be fairly hard for the NHL to say listen Oak View Group we thank you for your expansion fee but no thanks.
You probably have heard that there will be a major horse race at Belmont Park in Elmont, New York on Saturday. The Belmont Stakes and there is a horse that could win the Triple Crown named Justify.
Neither the National Basketball Association nor the National Hockey League is looking to add another team in the New York City metropolitan area but that apparently is not dissuading an investor in Suffolk County or county officials from putting up a building in Ronkonkoma.
Cuomo is a big spender in sports. https://www.youtube.com/watch?v=7N-nRzCzLes&t=2s For those who have not noticed, New York Governor Andrew Cuomo has been instrumental in facilitating New York...