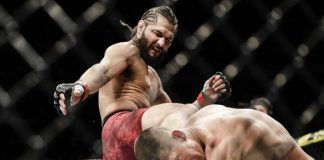 Jorge Masvidal managed to shock the public in 2019 as he provided us with the fastest knockout in UFC history – 5 seconds. He...
Not even three days have passed since the biggest knockout of his career and Derrick Lewis already has another fight lined up. On November 3rd, Lewis will square off with heavyweight champion Daniel Cormier in the main event at UFC 230 at Madison Square Garden.
UFC 229 was headlined by one of the most anticipated fights in the organization's history. The most popular fighter in the UFC, Conor McGregor, was looking to not only win back the lightweight championship he was stripped of but also hand Khaibib Nurmagomedov his first loss.
Khabib Nurmagomedov is and always will be a grappler. Unfortunately for him, every round starts on the feet. He will need to close the distance against longer McGregor who hold a four-inch reach advantage over Nurmagomedov.
UFC 230 has it all. It's at Madison Square Garden. The co-main event features the long-awaited return of Nate Diaz who is fighting the soaring Dustin Poirier. Six of the top ten middleweights are also on the card. Yep, the card pretty much has everything. That is...except for the main event.
There are many reasons why the UFC isn't as popular now as it was a couple years ago.  Here are the top five reasons why it is possible we have already seen the best of the UFC and unless the UFC fixes the problems listed below, we may have already seen the best of what the UFC has to offer.
White on Mayweather: "We'll see what happens" UFC President Dana White was on UFC Tonight on Wednesday night and spoke a number of different topics. White...
Diaz Looking to Fight Tyron Woodley We haven't seen Nate Diaz fight since his his majority decision loss at UFC 202 in August 2016 against...
Who Will Headline UFC on Fox 28? The UFC returns to the sunshine state for the first time since April 2016.  The fight card on...