Home
Tags
National League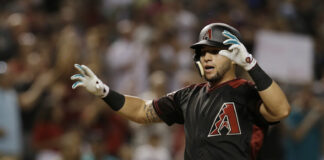 Paul Goldschmidt and David Peralta homered, Zack Greinke pitched into the seventh inning and the Arizona Diamondbacks beat the Miami Marlins 6-2 on Saturday night.
A few more starts like this and Caleb Smith might start getting a lot more attention. The 26-year-old lefty pitched neatly into the seventh inning against a Mets lineup that included newcomer Jose Bautista, leading the Miami Marlins over New York 5-1 on a damp Tuesday night.
Juan Soto, the youngest player in the majors at 19, has hit a three-run homer in his first career start for the Washington Nationals. A day after striking out as a pinch-hitter in his big league debut, Soto connected in the second inning against San Diego on Monday night.
Dansby Swanson's two-run single capped a six-run ninth, and the NL-leading Braves rallied to stun the Miami Marlins 10-9 on Sunday.
Sean Newcomb pitched six strong innings to win his fourth straight start, Johan Camargo and Ozzie Albies each drove in two runs, and the Atlanta Braves beat the Miami Marlins 8-1 on Saturday night.
The Miami Marlins pulled even with the Los Angeles Dodgers in the standings Wednesday night, which shows how sour the season has gone for the defending National League champions.
The Los Angeles Dodgers went 0 for 7 with runners in scoring position against Wei-Yin Chen and four relievers and were beaten by a last-place team for the fifth straight game, losing to the Miami Marlins 4-2 Tuesday night.
Even though Sean Newcomb had a little trouble throwing strikes Sunday, he kept escaping because the Miami Marlins had a lot of trouble hitting him. Newcomb allowed no runs for the third start in a row and gave up only one hit in six innings to help the Atlanta Braves beat Miami 4-3.
Jose Bautista atoned for a costly error with his first homer of the season, and Freddie Freeman went deep twice to help Atlanta beat the Miami Marlins 10-5 Saturday night.
Lou Perini changed the game. https://www.youtube.com/watch?v=T48ItM1wLa0&feature=youtu.be Sixty five years ago today, Lou Perini moved his Boston Braves National League baseball team to Milwaukee and changed how...