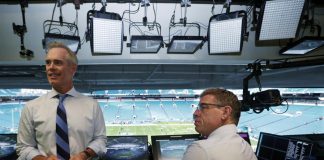 The USFL is the first major spring football league since the original USFL to finish its inaugural season. https://www.youtube.com/watch?v=caNjS0StYTc Unlike the Alliance of American Football and...
Bach is unhappy. https://www.youtube.com/watch?v=jWrVJtwK-jA The International Olympic Committee President Thomas Bach is probably livid at the United States House of Representatives' sending a bill to the...
As we all know the New England Patriots will take on the Philadelphia Eagles in Super Bowl 52 in Minnesota on Sunday with kickoff set for 6:30 p.m. So that means a good weekend for streaming video fans with tons of quality content.