Home
Tags
New York Islanders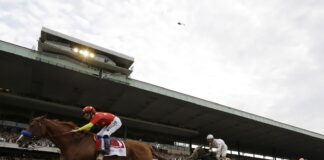 It's not 1950 anymore. https://www.youtube.com/watch?v=TUmZN45Auo8&t=4s There is a big thoroughbred horse race on June 8 in New York at a racetrack that straddles the...
Streaming to the future. https://www.youtube.com/watch?v=DwAwCX18Q5M&t=6s It has been an off season of not quite getting to the finish line for the Oakland A's ownership group for...
The arena allegedly is going to arrive by 2021. https://www.youtube.com/watch?v=YvcRgVcmvpM The public hearing phase of the whether there should be an arena built in Elmont, New...
Victor Hedman scored the lone goal in a shootout and Andrei Vasilevskiy had 36 saves as Tampa Bay defeated the Islanders 1-0.
The corporate bazaar. https://www.youtube.com/watch?v=lQu5US0cxuk&t=3s The National Hockey League is throwing a midseason party. It is called the All Star Game but it little more than a...
While the Islanders were home for the second straight day, the Lightning were playing on the road for the second night in a row — coming off a 5-3 win at Buffalo.
Amazon is putting a massive office complex in Long Island City, New York.  LaGuardia Airport expansion continues. The National Hockey League's New York Islanders Belmont arena project is on the road to a groundbreaking ceremony.
On Thursday night at Amalie Arena, the Tampa Bay Lightning defeated the New York Islanders 4-2 on a goal in the final minutes by Tyler Johnson. Andrei Vasilevskiy made 35 saves in the victory, and the Lightning rebounded from a slow start in the win.
Here is a question worth asking. What is going on with James Dolan and his Madison Square Garden business? Dolan is apparently getting in and out of the arena and entertainment building business on one hand and yet continuing building entertainment venues on the other hand.
The National Hockey League is probably going to set up shop in Seattle sooner than later which would allow the franchise owners to keep all of the revenue from a renovated arena. Is that a sticky problem for the NBA to overcome if the league decides to return to Seattle? Maybe.