Home
Tags
Odell Beckham Jr.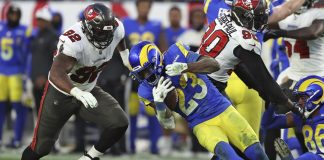 By: Michelle Sabin Sports Talk Florida All good things must come to an end. For the Tampa Bay Buccaneers their shot at defending the Super Bowl...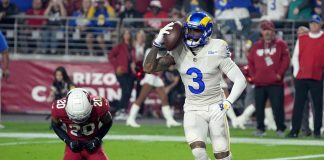 Los Angeles Rams receiver Odell Beckham Jr. was added to the COVID-19 reserve list Tuesday as the NFL reported 28 more positive tests among...
THOUSAND OAKS, Calif. (AP) — A few hours after the Los Angeles Rams added a playmaking receiver, they lost a cornerstone of their NFL-best...
BEREA, Ohio (AP) — Odell Beckham Jr.'s father is upset with Browns quarterback Baker Mayfield for not throwing the ball to his wide-open son. Well,...
Jacksonville Is On Center Stage As They Travel To MetLife Stadium To Face The Giants East Rutherford, NJ -- Week one of the NFL is...
As the 2018 NFL season kicks off, with already approaching the end of Pre-season football.  Organizations have been making large payouts to lock in players. To set the path for their teams to be successful in this upcoming season, it comes at a hefty price.