Home
Tags
Pittsburgh Panthers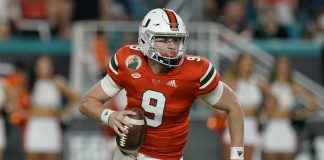 Written By Admir Aljic The Top Sports handicappers at Winnersandwhiners.com Miami Hurricanes (3-4) vs. Pittsburgh Panthers (6-1) The Pittsburgh Panthers will be looking for their fifth straight victory...
College Football week 13 presents intriguing matchups in the Sunshine State, with so much to play for.
Pittsburgh, PA -- On a gloomy Friday afternoon, The No. 2 Miami Hurricanes (10-1) came out sluggish and couldn't recover. Canes quarterback Malik Rosier was inaccurate to say the least, as he's been all season on the road. Miami's defense registered two turnovers, resulting in zero points. And The Pittsburgh Panthers (5-7) controlled the line of scrimmage on both sides of the ball
Pittsburgh, PA -- In light of the most recent College Football Playoff Rankings, pressure keeps mounting for the No. 2 Miami Hurricanes (10-0, 7-0 ACC). Finally jumping The Clemson Tigers (10-1, 8-0 ACC); The Canes are earning the respect they deserve.