Home
Tags
Pittsburgh pirates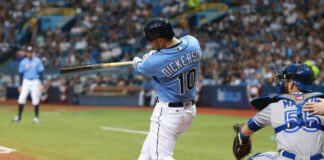 Dickerson Dealt To Pittsburgh The Tampa Bay Rays traded Corey Dickerson to the Pittsburgh Pirates in exchange for reliever Daniel Hudson, minor league infielder Tristan...
Almost time for spring training. The battle is beginning between the owners and players. https://www.youtube.com/watch?v=8QKTFK1weLs Did Major League Baseball owners collude and not sign free agents to...
David Freese was thinking about throwing the ball before it was in his glove. He never got the chance to wing it. Freese misplayed a groundball at third base, allowing Steven Souza Jr. to score in the 10th inning and giving the Tampa Bay Rays a 4-2 win over the Pittsburgh Pirates on Tuesday night.
Ranking the 30 MLB teams on how much fun they are to watch There is more baseball out there to watch than ever before.  Thanks...
The Pirates spent most of Saturday looking for a big hit to break through against the Miami Marlins. They finally got it in the seventh, when Jordy Mercer hit a tying two-run triple and John Jaso followed with a go-ahead double, lifting Pittsburgh to a 7-6 victory. Mercer's shot to center off reliever David Phelps (2-3) scored Andrew McCutchen and Elias Diaz, then Mercer scored on Jaso's ground-rule double to right.
Giancarlo Stanton kept taking aim at the batter's eye high above the center field fence at PNC Park during batting practice on Friday afternoon, but couldn't find the right pitch to get it there. It ended up coming off the hand of struggling Pittsburgh Pirates starter Tyler Glasnow instead. Stanton took a pitch from Glasnow and sent it 449 feet to a TV stand above the batter's eye for his 16th home run of the season as the surging Marlins stayed hot with a 12-7 victory over the reeling Pirates. Stanton took just a second to admire it before jogging around the bases, hearing the ball clang off a railing before flopping back onto the field. "Didn't get it out of the stadium man," said Stanton, who finished with three RBI
Edinson Volquez didn't throw a no-hitter this time. He thought he had no-hit stuff. Volquez followed his no-hitter by pitching seven scoreless innings and the Miami Marlins beat the Pittsburgh Pirates 7-1 on Thursday night. "I threw more strikes, more breaking balls than the last time, and my fastball was better after the first inning," Volquez said. "I thought my stuff was better."