Home
Tags
RACIAL INJUSTICE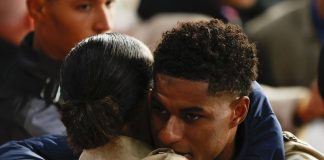 LONDON (AP) — British police opened investigations Monday into the racist abuse of three Black players who failed to score penalties in England's shootout...
The restart is about to restart. Basketball will be played again inside the NBA's bubble at Walt Disney World on Friday, albeit of the practice...
Moved by the videotaped shooting of Jacob Blake, many professional athletes — some who had previously donned Black Lives Matter T-Shirts and knelt for...