Home
Tags
Rafael dos Anjos
UFC 230 has it all. It's at Madison Square Garden. The co-main event features the long-awaited return of Nate Diaz who is fighting the soaring Dustin Poirier. Six of the top ten middleweights are also on the card. Yep, the card pretty much has everything. That is...except for the main event.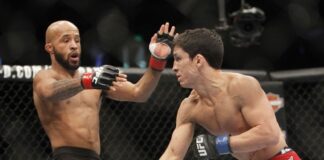 The main event of UFC 225 is a good one, featuring a rematch between the two best fighters in the world at 185 lbs.  Robert Whittaker will look to defend his middleweight belt for the first time against #1 Yoel Romero.  Whittaker (19-4) won the interim belt when he faced Romero (13-2) at UFC 213 last July.
The UFC Comes To The Amway Center The UFC is coming back to Orlando with UFC on Fox: Emmett vs Stephens for the first time...
White on Mayweather: "We'll see what happens" UFC President Dana White was on UFC Tonight on Wednesday night and spoke a number of different topics. White...
Who Will Headline UFC on Fox 28? The UFC returns to the sunshine state for the first time since April 2016.  The fight card on...