PITTSBURGH (AP) — Chris Archer won't pitch for the Pittsburgh Pirates in 2020, and his time with the club may be over. The 31-year-old right-hander...
NEW YORK -A- As Major League Baseball and the players' union contemplate various ways to create a schedule for whenever the coronavirus pandemic subsides, Cincinnati Reds...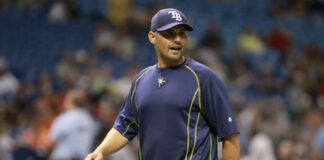 The Tampa Bay Rays open their 2019 season against Justin Verlander and the Houston Astros. Blake Snell takes the mound for the Rays.
Tyler Bradley and Timothy Mallard bring you Tampa Bay Sports This Morning! The Rays have signed some prospects to Minor League deals. Steve Kinsella of Sports Talk Florida joined to talk about all things Rays.
Tyler Bradley and Timothy Mallard bring you Tampa Bay Sports This Morning! The Rays are going cashless for the 2019 season. What does this mean for fans and why the drastic decision? Mike Evans caught an interception in the Pro Bowl. What can be done to improve the Pro Bowl game? And the Magic lose again extending the skid to 3 games.
On today's episode of Tampa Bay Sports This Morning, Tyler Bradley and Timmy Mallard talk about the Rays signing Charlie Morton, an All Star pitcher from last season with the Houston Astros. With the Bucs preparing for the Ravens this weekend, they now know they must be ready for Lamar Jackson at the quarterback position for Baltimore.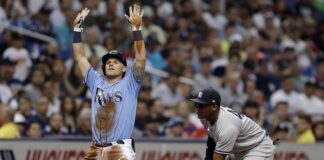 The young Domingo German was tested in the finale with the Yankees dropping the first two games of this set against the 3rd place Tampa Bay Rays. The Rays countered with a bullpen day featuring Matt Andriese on the hill. German was asked to halt the Rays momentum and pitch the Yankees to a crucial series salvaging win.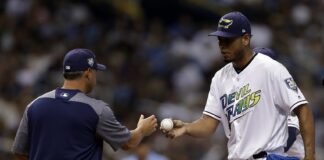 Since the Yankees acquired Sonny Gray on July 31st 2017, his ERA on the road is 2.93 which is good for 7th lowest in the American League. The Saturday showdown was nearly sold out with only tiny splotches of blue representing empty seats in the Rays 4-0 win.
On Monday, despite not being scheduled to start, Matt Moore offered himself to Tampa Bay media in the Rangers' dugout.
10 News WTSP Investigative Reporter Noah Pransky talks with EK The Tampa Bay Rays took another step in their quest for a new stadium over...