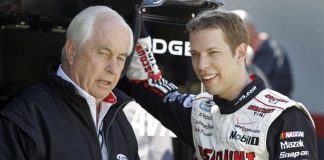 MARTINSVILLE, Va. (AP) — Brad Keselowski moved to Team Penske to become a NASCAR champion and industry leader. He achieved his first goal in 2012...
INDIANAPOLIS (AP) — Roger Penske will give the command to start the engines for the Indianapolis 500. Penske will take over a role held...
INDIANAPOLIS -AP- Roger Penske, at 83 and considered high risk for the coronavirus as a 2017 kidney transplant recipient, still makes the daily three-minute...
INDIANAPOLIS - AP - Roger Penske completed his purchase of Indianapolis Motor Speedway on Monday, becoming just the fourth owner of the historic facility...