Florida News: Ryan Yarbrough
The Tampa Bay Rays jumped on Angels starter Tyler Skaggs early and often Tuesday night en route to a 10-6 victory.
The Tampa Bay Rays were gifted the winning run in defeating the Baltimore Orioles 4-3 to open their four game series.
The Tampa Bay Rays lost their 23rd 1-run game of the season falling 3-2 to the Miami Marlins on Saturday night. The loss drops the Rays back to the break even mark at 49-49 on the season.
Luis Severino went eight scoreless innings and the Yankees got back-to-back homers from Giancarlo Stanton and Gary Sanchez in sending the Rays to their ninth straight road loss by a final score of 4-1.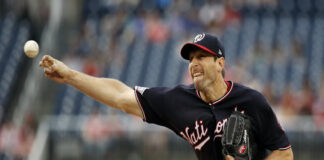 The Tampa Bay Rays were unable to solve the mystery of Max Scherzer who punched out 13 in the Nationals 4-2 win. It was the Rays fifth straight loss dropping them to 28-31 on the season.
The Tampa Bay Rays were unable to complete the sweep falling 7-3 to the Oakland Athletics. Daniel Mengden handcuffed the Rays working eight strong innings. The Rays continue their West Coast swing heading to Seattle to take on the Mariners.
The Tampa Bay Rays went 0-for-8 with runners in scoring position and had three runners thrown out on the bases as they were shutout by the Baltimore Orioles 2-0 Friday night.
The Atlanta Braves completed a two-game sweep of the Tampa Bay Rays on Wednesday night with a 5-2 victory driven by another strong starting pitching performance.  This time it was Julio Teheran on the hill for Atlanta keeping the Rays down.  Tampa Bay had to nearly avoid a shutout, care of Wilson Ramos and his Major League-leading hit streak.
The Tampa Bay Rays used an 18-hit assault, including four homers, en route to a 12-6 win over the Boston Red Sox. It was the Rays eighth straight win and they improve to 12-13 on the season.
The Tampa Bay Rays are off to a 3-12 start, the worst start in franchise history. There is a lot to dislike about the team, but Yonny Chirinos is among the bright spots.