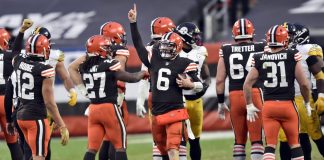 CHARLOTTE, N.C. (AP) — The Panthers now have two of the top three overall picks from the 2018 NFL draft class on their roster,...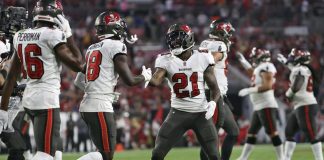 By: Michelle Sabin Sports Talk Florida Buccaneers went to work Sunday afternoon against the Carolina Panthers. Although it was a slow start offensively, Tampa Bay picked...
Baker bested fellow rookie Sam Darnold, scoring the game's only TD on a 25-yard interception return with 11 minutes left, and a resilient defense helped the Miami Dolphins beat the hapless New York Jets 13-6 on Sunday.
Baker Mayfield replaced injured starter Tyrod Taylor and sparked the Browns, who got two 1-yard touchdown runs from Carlos Hyde and beat the New York Jets 21-17 on Thursday night for their first win since Dec. 24, 2016.