Home
Tags
Seattle Mariners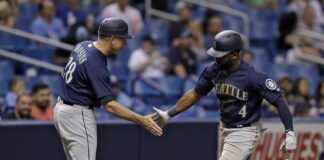 The Rays used the opener again in Ryne Stanek and got seven strong innings in "relief" from Austin Pruitt.  The bats struggled against starter Mike Leake, who got through eight full innings, but the Rays put up three in the bottom of the ninth in a dramatic finish.  The Mariners took the 5-4 win by the skin of their teeth, with Tampa Bay taking their seventh straight loss in the process.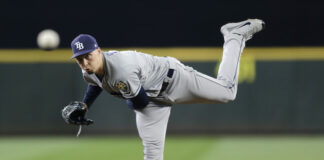 Every inning it became clearer and clearer that Blake Snell had something special going on Sunday afternoon in Seattle. Unfortunately, the Mariners would get the last laugh with two runs in the eighth to take the 2-1 win and a weekend sweep at Safeco Field.
Marco Gonzalez went 6.2 innings with just one run allowed, Ryon Healey homered, and the Seattle Mariners took a 3-1 win over the Tampa Bay Rays on Saturday night to send the Rays back below .500.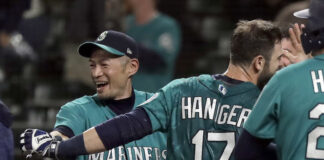 There always seems to be one game in Seattle that never seems to end. It's something it seems like every eastern team goes through; that game that goes outside of regulation to be decided in the wee hours of the morning.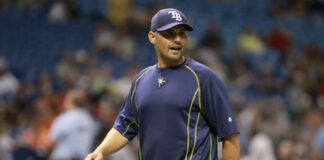 The Tampa Bay Rays have become first team to get back over .500 before end of May after being 9 or more games under since the 2009 Padres. Now the schedule turns to June, and the schedule makers didn't make it easy for this team to avoid the June swoon.
The Tampa Bay Rays were unable to complete the sweep falling 7-3 to the Oakland Athletics. Daniel Mengden handcuffed the Rays working eight strong innings. The Rays continue their West Coast swing heading to Seattle to take on the Mariners.
The Tampa Bay Rays and Seattle Mariners completed a four player deal on Friday night. The Rays sent Denard Span, Alex Colome, and cash considerations to Seattle in exchange for a pair of minor league pitchers.
This was not how Felix Hernandez hoped to start spring training. Slowed by injuries last year, the Seattle ace was struck in his pitching arm...
Roger Goodell seems to have broken John Schnatter's heart. https://www.youtube.com/watch?v=vTkdVFT1Q58 Another weekend and another NFL TV ratings test. It is absolutely insane to judge the National...
McDonald's is leaving Olympics sponsorship. Sports sponsorship is at best a subjective business. Does having the right to put the Olympic rings on your businesses...