Home
Tags
Seattle Sounders
Florida News: Seattle Sounders
Major League Soccer announced Wednesday that its season will resume starting July 8 with a tournament in Florida. The...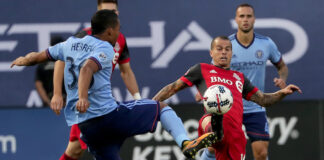 Major League Soccer and its players' union reached an agreement that paves the way for a summer tournament in Florida after the...
Getting a handle on the virus. https://www.youtube.com/watch?v=ITLPUXFhnww As more states report cases...
The Donald Trump tariff on steel, rebar and aluminum has caused the estimated price of the renovation of the Seattle arena to rise by about one hundred million dollars. The Seattle project probably won't be the only sports plan impacted.
LAFC has a unique TV deal. https://www.youtube.com/watch?v=hDSGKRNwRTY&t=1s Google's first venture into streaming a live sports event takes place today with the Seattle Sounders-LAFC Major League Soccer...