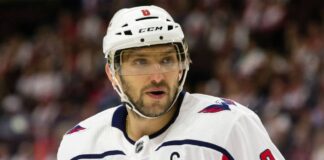 As the finals seconds of Game 5 of the Stanley Cup Finals melted away, the scoreboard at the T-Mobile Arena read Washington 4 Las Vegas 3 and two things were certain. The Capitals had just won their first Stanley Cup Championship and Alex Ovechkin, the greatest goal scorer of his generation and one of the best of all time could finally silence a small portion, of the hockey world who still refused to believe how good he really is.
The Washington Capitals are playing the Pittsburgh Penguins in their franchise's most important game tonight. Yes, a team that has won the President's Trophy three times this decade, features the best goal scorer of the generation, and has played in a Stanley Cup Final before is playing their most important game in franchise history in the second round.
Even Sidney Crosby and the Pittsburgh Penguins are going to be challenged trying to top this. Crosby was awarded his second consecutive Conn Smythe Trophy as the MVP of the Stanley Cup playoffs, and goalie Matt Murray made 27 saves for his second straight shutout as the Penguins became the first team to repeat as champion in nearly two decades with a 2-0 win over the Nashville Predators in Game 6.
PITTSBURGH (AP) -- A shot from the point by Washington's Kevin Shattenkirk salvaged - or at the very least, extended - his team's season. A...