Home
Tags
South Florida Bulls basketball
Tag: South Florida Bulls basketball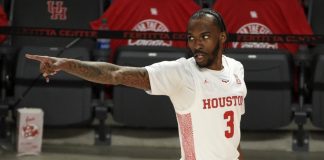 HOUSTON (AP) — Quentin Grimes scored 22 points, all in the first half, to lead No. 12 Houston to a 98-52 win over South...
UNCASVILLE, Conn. (AP) — Fatts Russell scored 15 points as Rhode Island topped South Florida 84-68 at Bubbleville at theMohegan Sun Resort on Saturday. Jalen...
TAMPA, Fla. (AP) — David Collins had 17 points as South Florida defeated Florida College 94-84 on Wednesday in a season opener. Justin Brown had...