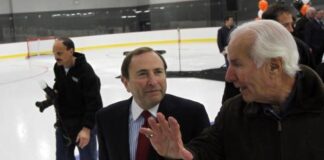 NHL Players won't appear in South Korea 2018 Winter Games And so, it seems that National Hockey League Commissioner Gary Bettman, and the 31 team...
Rio's Olympic Committee is in debt and is offering barter deals to pay off vendors https://www.youtube.com/watch?v=ScqbX2YgGrg&feature=youtu.be You have to give the organizers of the Rio Olympics...
Could Donald Trump follow Jimmy Carter's lead and tell the USOC not to send athletes to compete in the Olympics? The reasoning, though. would...
The NFL is trying to increase the league's presence in London. https://www.youtube.com/watch?v=c_8qzpUdgJo&feature=youtu.be For some reason, the NFL has decided to establish a presence in London in...