Home
Tags
Sunday Night Football
Tag: Sunday Night Football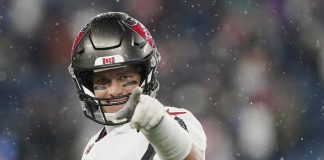 By: Michelle Sabin Sports Talk Florida In the most highly anticipated regular season game, Quarterback Tom Brady and the Tampa Bay Buccaneers took on the New...
Last nights debut of Bucs Babes was fun and energetic! Join Ruth the Truth and Tampa Sports Bae every Friday live at 9pm Est...
The NFL still delivers viewers. https://www.youtube.com/watch?v=xGhzwE-X7wY It is the weekend so it must mean the National Football League is facing another round of television ratings scrutiny...
About those TV ratings maybe it is worth another look. https://www.youtube.com/watch?v=3pv9KTMI7Gw&t=4s The National Football League's regular season ends this weekend and it has been a ponderous...