Florida News: Switzerland
The International Olympic Committee is looking for an area that will have no problem paying off a debt of billions of dollars or loonies or euros or yen in exchange for the opportunity to host an Olympics.
Boxing, which has been a Summer Olympics mainstay since the 1904 St. Louis event, with the exception of the 1912 Stockholm Summer Games because Sweden had outlawed boxing, may be on the Olympics ropes.
The NHL's Vegas Golden Knights franchise will be joined by the NFL's Mark Davis Raiders in two years, the NBA has a summer development league in town and Major League Baseball might be interested in at least kicking the tires and take a look at the city in the event there is an expansion or relocation opportunity in the future.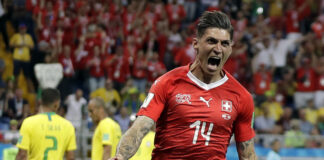 The latest action at the World Cup, from Germany's loss against Mexico to Brazil's draw with Switzerland.
The International Olympic Committee suffered a defeat at the polls in Sion and Valais, Switzerland on Sunday as voters rejected a chance to help fund the 2026 Winter Olympics in that area.
The next major test for sports and whether people want to spend tax money on a sports endeavor comes on June 10 in Sion, Switzerland. That's when local voters get a chance to say yes or no to a request by elected officials to spend money to help fund the 2026 Winter Olympics bid in the city.
It appears that the backers of the 2026 Sapporo, Japan Winter Olympics bid really don't want to go ahead with the bid. The Sapporo backers may want to try to land the 2030 Winter Games but there really isn't much of an explanation as to why the group is seeking a delay.
What is it about the Olympics that drives politicians and business leaders of various countries into denial when it comes to actually figuring out what hosting an Olympics really costs and how much of that debt is shoved onto taxpayers?
It is all about the money. https://www.youtube.com/watch?v=ZaoubynXUI8&feature=youtu.be It has been a good month for the International Olympic Committee President Thomas Bach. He has been to North...
Help is on the way. https://www.youtube.com/watch?v=n3JHjI6gfyo&feature=youtu.be The Olympics and the Paralympics come and go every two years but there is one constant that never disappears. The...