Today I am here to make the case for the University of South Florida and why they should be included in phase two of...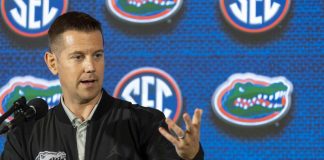 It will be a getting to know you first date. https://www.youtube.com/watch?v=cdaoL66hb1A There will be a meeting between the Commissioners and staff members of the Big 12...
DALLAS ---AP---The Big 12′s revenue distribution to its 10 schools decreased only slightly because of the pandemic that led to the cancellation of spring...
Noi finished with 22 points, outscoring the Gators all by himself for most of the first half, and TCU held on to win 55-50 in the SEC/Big 12 Challenge on Saturday.
OMAHA, Neb. (AP) — Florida coach Kevin O'Sullivan stared at the stats in front of him and picked out the only number he wanted...