Home
Tags
TEXAS CHRISTIAN UNIVERSITY
Tag: TEXAS CHRISTIAN UNIVERSITY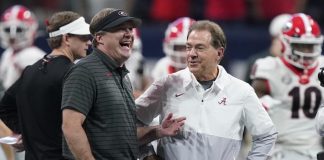 The NCAA still does not want to pay the stars of the show, the performers. https://www.youtube.com/watch?v=xDAost2wi0A It is time for the college football championship game in...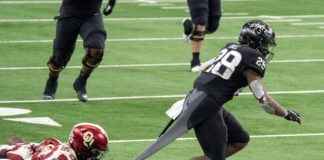 Texas and Oklahoma are looking for a better deal. https://www.youtube.com/watch?v=VzJ7Oq641x4 Two institutes of higher education, the University of Texas and the University of Oklahoma are apparently...
The nightmare is coming true in California. https://www.youtube.com/watch?v=p6XS6jx5LCE For decades, the member schools of the National Collegiate Athletic Association have not paid the stars of their...
Alex Faedo dominated TCU for a second straight time, and now he and his Florida Gators teammates will face a familiar opponent in the College World Series finals. The Detroit Tigers' first-round draft pick pitched three-hit ball for 7 1/3 shutout innings to lead the Gators to a 3-0 win Saturday night, setting up an all-Southeastern Conference best-of-three finals against LSU beginning Monday. No. 3 national seed Florida (50-19) is in the finals for the first time since 2011 and looking for its first championship in baseball. Fourth-seeded LSU, which shared the SEC regular-season title with the Gators, advanced with a 6-1 win over No. 1 Oregon State on Saturday.
TCU coach Jim Schlossnagle had to admit he was a little worried when Florida starter Jackson Kowar struck out seven of the Horned Frogs' first eight batters in their College World Series game Friday night. TCU won 9-2 over the Gators setting up tonight's elimination game. Today it will be LSU-Oregon State (3 p.m. ET, ESPN), followed by TCU-Florida (8 p.m. ET, ESPN), with the winners to play Monday night in the first game of the championship series. You can hear the game by clicking here.