Home
Tags
THE BELMONT STAKES
Florida News: THE BELMONT STAKES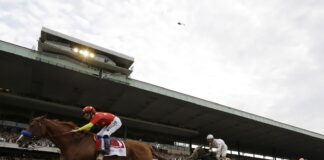 Throwback Saturday. https://www.youtube.com/watch?v=pSgD6AP_LTk&t=4s The Belmont Stakes, which started in 1867 in the...
You probably have heard that there will be a major horse race at Belmont Park in Elmont, New York on Saturday. The Belmont Stakes and there is a horse that could win the Triple Crown named Justify.
The mystery surrounding the Japanese horse that is the early 4-1 second choice to win the Belmont Stakes has gotten deeper. Epicharis didn't train on Thursday, hours after the 3-year-old dark brown colt was treated with an anti-inflammatory for lameness in his right front hoof, calling into question whether he will be fit to run in Saturday's final leg of the Triple Crown.