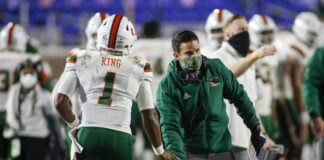 Cheez-It Bowl: Oklahoma State (7-3, Big 12) vs. No. 18 Miami, FL (8-2, ACC), Dec. 29, 5:30 p.m. EST (ESPN) Line: Oklahoma State by 2...
Let's talk. https://www.youtube.com/watch?v=q8PiWVdhSvs College football players are revolting, whether that is because of the COVID-19 pandemic, or because of the nationwide protests that erupted after the...
The future plans for college football in the ACC, Big 12 and the SEC will be made the last week of July as the...
It is always about the money. https://www.youtube.com/watch?v=RYn2KYOp54c The Mountain West college sports conference which is made up of eleven schools and has the University...