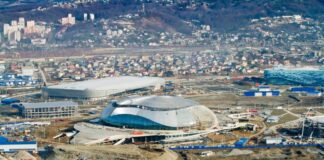 The Olympics event cost billions of dollars. https://www.youtube.com/watch?v=Pfmepk4HOvs You do wonder whether the proponents of bringing the 2030 Winter Olympics to Salt Lake City, Utah paid...
Taxpayers on the hook. https://www.youtube.com/watch?v=Bl889W2A4M0 Sometimes you wonder why politicians ever even think of spending public money on the Olympics. There are so many Olympics sized...
The National Basketball Association season is underway but the Commissioner Adam Silver, his staff and the 30 owners are looking into the future and expanding the brand.
The organizers of the 2020 Tokyo Olympics are looking for a few good men to help with the presentation of the event. In fact, the organizers are looking for more than a few good men.
While Major League Baseball, the National Football League, the National Basketball Association and the National Hockey League continue to export their North American product globally, there is one sports group that does not want to step foot in America.
You have to wonder if Boston Red Sox customers really want to lose two home chances to see the New York Yankees in 2019. One of baseball's oldest and most combative rivalries is going across the pond with the Yankees and Red Sox playing two games in London, England during the 2019 season.
Is sports on the up and up? https://www.youtube.com/watch?v=ZFNfnSov0Ak As the Winter Olympics competition continues, there are some huge questions that a grand jury in Brooklyn, New...