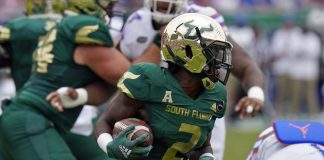 The University of South Florida is getting some new playmates as the American Athletic Conference will be adding six new schools to take the...
The AAC is going shopping. https://www.youtube.com/watch?v=OFwZTQESKuk Conference USA is probably going to lose six schools because the schools' presidents and chancellors think that jumping to the...
MIAMI GARDENS, Fla. (AP) — Cam'Ron Harris ran for 134 yards and scored twice to lead Miami to a 31-14 season-opening win over UAB...