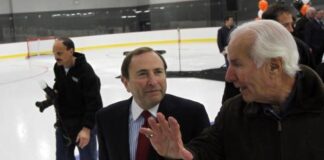 NHL Players won't appear in South Korea 2018 Winter Games And so, it seems that National Hockey League Commissioner Gary Bettman, and the 31 team...
Chicago and Lake Michigan were passed over for the 2017 America's Cup race. Here is a question that most people probably aren't even thinking about....
After a money losing venture in Brazil, questions about Russia 2018, Qatar 2022, a North America based World Cup makes sense. FIFA's President Gianni Infantino...
Groups in Las Vegas, Phoenix and San Diego want a franchise. https://www.youtube.com/watch?v=5tijOROJecw Major League Soccer Commissioner Don Garber may be filling the missing logo on the...