Home
Tags
UNIVERSITY OF FLORIDA GATORS
Tag: UNIVERSITY OF FLORIDA GATORS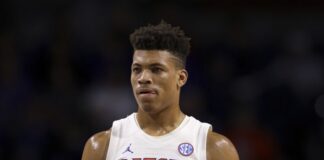 GAINESVILLE, Fla. (AP) — Florida forward Keyontae Johnson is being released from the hospital Tuesday, 10 days after collapsing on the court at Florida...
A week before Big Ten teams become eligible again for The Associated Press college football poll, No. 25 Marshall is ranked for the first...
GAINESVILLE, Fla. - (AP) -- Omar Payne was an afterthought in Florida's highly touted recruiting class, which featured high school All-Americans Scottie Lewis and...
Noi finished with 22 points, outscoring the Gators all by himself for most of the first half, and TCU held on to win 55-50 in the SEC/Big 12 Challenge on Saturday.
Mississippi State shot 53.1 percent from the floor and made 10 of 17 beyond the arc. Florida shot 42.4 percent from the field and made just 10 of 31 shots from deep.
Florida led by 16 points with 9:13 remaining against Arkansas (10-4, 1-1), only to see that lead shrink to 53-51 with under a minute remaining. Allen, originally from Arkansas, hit four free throws in the final 12 seconds to secure the win for the Gators and finished 11 of 12 from the line.
The Gators, Aggies, Both Lost Last Week In SEC Showdowns The Florida Gators had everything set up for them last week to defeat the LSU...
The University of Florida Gators will host Tennessee at "The Swamp," Saturday at 3:30 p.m. in a game to be seen nationally on CBS. Meanwhile, Saturday night it was decided that the big showdown between Florida State and Miami would be rescheduled for October 7th when both teams were set for a bye week.
Florida might have solved its long-running quarterback problem with the addition of Notre Dame transfer Malik Zaire. That move became official last week, and as a graduate transfer, Zaire will be immediately eligible. Zaire is no lock to be the Gators starter when they open against Michigan in Arlington, Texas, at the home of the Dallas Cowboys. Of course, if coach Jim McElwain and the Gators really felt good about redshirt freshman Feleipe Franks, then Zaire probably would not be going to school in Gainesville.
Maybe this wasn't Florida coach Kevin O'Sullivan's best team. It is, however, his first national championship team. A year after the Gators went two games and out at the College World Series with a team seeded No. 1 and loaded with high draft picks, they won five of six in Omaha and completed a sweep of Southeastern Conference rival LSU in the finals with a 6-1 victory Tuesday night. The Gators scored four runs in the eighth inning to pull away and now, for the first time in the program's 103-year history, the championship trophy will be with the team when it travels back to Gainesville.