Home
Tags
University of Missouri
Tag: University of Missouri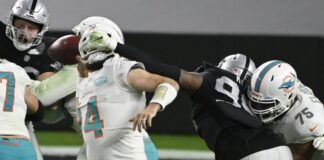 COVID-19 did not wreck the league's schedule. https://www.youtube.com/watch?v=6g38nLYSxGQ Somehow the National Football League has staggered through the season with every team being able to play a...
The season thus far for the Florida Gators has been a roller coaster. After losing to Michigan 33-17 opening week, Florida (3-5, 3-4 SEC) won three straight thrilling games. They then lost their next two games by a combined three points.
Protests could happen. https://www.youtube.com/watch?v=bPFDzzeSWPk&t=10s It is the first college football Saturday since National Football League players staged a protest against Donald Trump who called for the...
The Dolphins could've selected a linebacker at pick No. 22 and filled the perceived need with Alabama's Reuben Foster, but they passed on the...