Home
Tags
USF BULLS BASKETBALL
Florida News: USF BULLS BASKETBALL
South Florida guard Laquincy Rideau (3) goes up to block a shot by Memphis guard Alex Lomax (2) during the first...
USF was dominant in the defensive end and ran away from UConn to record their first conference win on Saturday afternoon....
Boston College defeated South Florida, 74-60, at the Yuengling Center on Sunday afternoon November 10. (Photo: Tom Layberger)
The USF men's basketball program will play four games during their upcoming trip to Canada.
The Bulls lost to visiting SMU on Sunday and must shift their focus to playing UConn on the AAC tournament.
The second-largest crowd since the Yuengling Center was refurbished in 2012 turned out to see visiting UCF defeat USF, 75-63.
David Collins missed two free throws with less than a second remaining and USF fell to Temple in overtime, 70-69.
Through 14 games the 6-foot-3 sophomore led the Bulls in scoring with an average of 14.3 points and his 2.5 steals were second.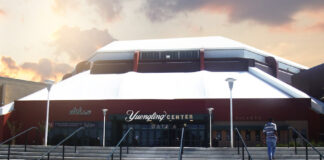 South Florida battled back from a double-digit deficit to beat UConn 76-68 Wednesday night in the American Athletic Conference opener for both teams.