Home
Tags
WASHINGTON NATIONALS
Tag: WASHINGTON NATIONALS
Harper is expected to join the club in Clearwater over the weekend and there will be a formal announcement of his likely on Monday with the chance of him playing in his first game as early as Tuesday
The movers and shakers want to build Snyder a home office. https://www.youtube.com/watch?v=eronHXt4lhU&t=1s Daniel Snyder's Virginia-based National Football League business which operates from a storefront in Landover,...
With Major League Baseball's Winter Meetings set to kick off next week, teams in the hunt for a big name player are preparing their portfolios and adjusting their payrolls for the big push. This year, with most closely watching the Philadelphia Phillies, perhaps no team is at a bigger crossroads than the Washington Nationals.
With a bottle of bubbly at his feet and a baseball with the inscription "300 Ks" in a case in his locker, Max Scherzer allowed himself a moment to consider what he'd just accomplished.
Stephen Strasburg matched his season-high with 11 strikeouts and Bryce Harper tied a career-high with five walks as the Washington Nationals beat the Miami Marlins 4-2 Tuesday night.
It looked like the Washington Nationals were turning the corner scoring 19 runs in the first two games against the Miami Marlins.
J.T. Realmuto got a career-high five hits and drove in three runs, Martin Prado had four hits and the Marlins defeated Washington 10-2 on Sunday to snap a 14-game losing streak to the Nationals.
Trea Turner hit two homers, including his first career grand slam, and drove in eight runs to help the Washington Nationals rally from a nine-run deficit and defeat the Miami Marlins 14-12 in a wild slugfest Thursday night to end a five-game losing streak.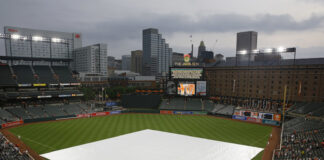 Rumor du jour. https://www.youtube.com/watch?v=nquO3G5tqMs&t=1s Baltimore Sun writer Peter Schmuck had an interesting column last week about the long term future of Major League Baseball's Baltimore Orioles...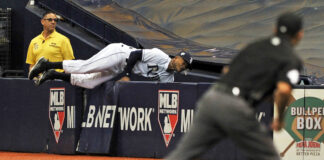 Nathan Eovaldi was beyond "sharp."  The Rays' righty had his best performance of the season, striking out nine batters in six innings while allowing just one hit, a double in the sixth care of Bryce Harper.