America, Canada and Mexico will have matches. https://www.youtube.com/watch?v=eb9gX0CJ_-4 The governing body of international soccer, FIFA, has again sent a delegation to the United States and Mexico...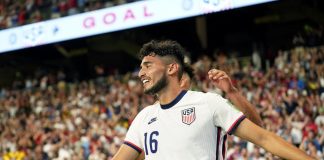 LONDON (AP) — FIFA plans to postpone the Club World Cup until early next year due to hosting challenges linked to the pandemic, people...
American owners and JP Morgan Chase wanted a new league. https://www.youtube.com/watch?v=DdcDDSm7Qso Imagine if the owners of the New York Yankees, Los Angeles Dodgers, New York Mets,...
NEW YORK - AP - Karma had a career year in 2019. She draped a green jacket on Tiger Woods, handed soccer's World Cup to...
Losers are not wanted. https://www.youtube.com/watch?v=0j5m5GqYJsY You have to hand it to the President of the International Olympic Committee Thomas Bach for the talk of...
The governing body of global soccer, FIFA, is irate and has issued a threat. If big brand teams such as Manchester United, Real Madrid and others form a European super soccer league without FIFA's approval, any player who performs for those teams would be banned from playing in FIFA's crown jewel event, the World Cup.
If a company is under investigation by authorities in the United States and Switzerland for corruption, it probably is not the smartest thing for that company to update its ethics code and remove the word corruption and add defamation to the document.
That Vladimir Putin must be quite the charmer. The Russian President is back in the good graces of the head of soccer's governing body, FIFA, and the President of the International Olympic Committee.
Kylian Mbappe and France put on a thrilling show in winning the World Cup title. All Russian President Vladimir Putin might remember is the Pussy Riot protest. The 19-year-old Mbappe became only the second teenager after Pele to score in a World Cup final, helping France beat Croatia 4-2 on Sunday.
Harry Maguire and Dele Alli scored with headers in a 2-0 win over Sweden on Saturday, earning England's youthful team a match against either Croatia or host nation Russia for a place in the final on July 15.