Florida News: Zack Greinke
The Rays take on Zack Greinke and the Houston Astros in a win or go home Game 3 of the ALDS. Charlie Morton takes the mound for the Rays.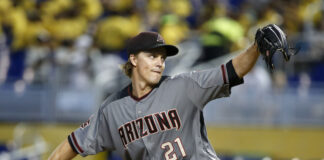 Zack Greinke grinned as he stepped to the plate in the sixth inning Thursday afternoon, and then swung at the first pitch for another hit. The Arizona Diamondbacks right-hander pitched seven innings and was an offensive dynamo , too, helping to beat the Miami Marlins 4-0.
Zack Greinke had a good night on the mound, at the plate and covering first base. Greinke pitched seven innings, singled for his second hit of the year and finished a pivotal 3-6-1 double play, helping the Arizona Diamondbacks rally to snap the Miami Marlins' four-game winning streak by beating them 3-2 Thursday. Greinke fell behind 2-0 in the third, and with two on and one out in the fourth, he helped turn an inning-ending double play , taking a relay throw from shortstop Nick Ahmed to keep the score close.