Andriese Departs Early, A's Manaea Cruises To Win
The Oakland Athletics won just their ninth road game of the year defeating the Tampa Bay Rays 7-2 to split the doubleheader.
Chi-Wei Hu (0-1, 1.13 ERA) takes the loss for the Rays who see their four game win streak come to an end and fall to 33-32 on the year.
Sean Manaea (6-3, 3.67 ERA) worked seven innings allowing just a pair of runs. The A's improve to 27-35 on the year.
Matt Andriese came off the disabled list to make his start but had to depart the game after just one inning after re-injuring the groin. He's scheduled  to undergo an MRI in the morning and a trip to the disabled list is expected.
"It was the last pitch of the first inning. It was the same felling. I hadn't felt it all week." Andriese said. "We went through the rehab process and all good. Nothing. Was going at it 100-percent and didn't feel it in warmups,  nothing."
Chih-Wei Hu, called up as the 26th man, came in and gave the Rays four solid innings of relief. He allowed one run on two hits while striking out five and walking one. Remarkably, he made 64 pitches, a number well above either of his last two outings in Durham. He made just 25 pitches in his last outing on June 6th and 11 the outing prior on June 3rd.
"Today was even better than last time in Texas." Kevin Cash said. "He was much more efficient. Today he attacked. I know he gave up a home run, but felt like he was in control of the count."
Jose Alvarado followed Hu to the mound and struggled in his one inning of work but was able to work out of a bases loaded jam allowing just one run to score.
Ryne Stanek came into the game in the seventh inning and in two innings of work allowed a solo home run to Ryon Healy and a 2-run homer to Chad Pinder. He has now allowed four homers in just 9 2/3 innings this season.
Danny Farquhar worked the ninth and allowed one earned run.
More From Cash:
Longo Hits #250:
Evan Longoria delivered a solo homer in the sixth inning to cut the A's lead to 3-2. It was Longoria's ninth home run on the season and 250th of his career. The only other player with 250 home runs for their current team are Miguel Cabrera (313) of the Detroit Tigers, Ryan Braun (292) of the Milwaukee Brewers, and Jose Bautista (270) of the Toronto Blue Jays.
The homer snapped a 10-game homerless drought for Longoria. He ended up with five hits in the doubleheader and has consecutive multi-hit games for the first time since May 19-20 against the New York Yankees.
Up Next For Rays: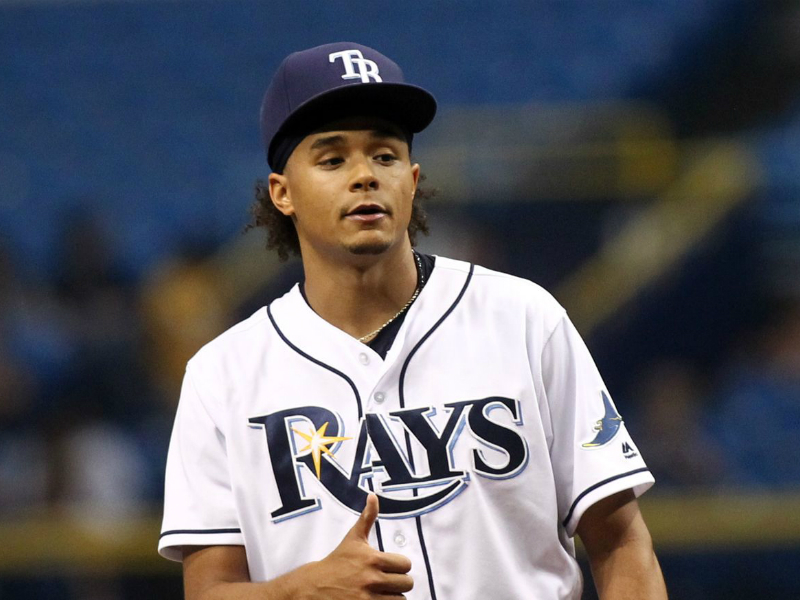 The Rays and A's finish their four game series Sunday afternoon. Chris Archer (4-4, 3.65 ERA) takes the mound for the Rays. Oakland will counter with former Rays prospect Jesse Hahn (2-4, 3.40 ERA).
Archer picked up a win in his only start against the A's (May 22, 2016). Jesse Hahn had a no-decision against the Rays in his only start against them (July 24, 2016).
The Rays dealt Jesse Hahn to the San Diego Padres along with Alex Torres in exchange for Brad Boxberger, Matt Andriese, Logan Forsythe, Maxx Tissenbaum, and Matt Lollis.  In a side note, Hahn was traded by the Padres to the A's for Derek Norris.