Home
Tags
San Diego State University
Florida News: San Diego State University
The NFL Is Not Returning. https://www.youtube.com/watch?v=o050qLySMDI It appears...
Major League Soccer Commissioner Don Garber and his bosses, the MLS owners, are particularly interested in Election Day. San Diego and Miami have stadium referendums on the ballot that will impact David Beckham's proposed team in Miami and in San Diego voters will decide on stadium issues that could bring an MLS team to the city.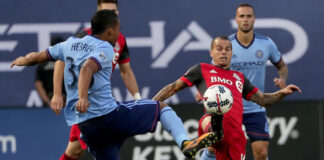 Election Day is coming up soon and there are two stadium proposals on the ballot in San Diego that definitely have the interest of Major League Soccer and perhaps the National Football League.
Major League Soccer is waiting for the Austin City Council's decision to give the go ahead to a soccer stadium plan that would allow Precourt Sports Ventures to move its Columbus Crew franchise to the Texas capital in 2019.
It has not been smooth sailing for MLS Commissioner Don Garber and his owners in expanding the league. Charlotte-area politicians are still attempting to figure...