Home
Tags
Toronto Maple Leafs
Florida News: Toronto Maple Leafs
And so the international experiment finally produces. https://www.youtube.com/watch?v=aEp9UT8bsqc&t=6s The National Basketball Association...
The Toronto Maple Leafs ended the Tamap Bay Lightning's nine-game home winning streak defeating them 4-2 Thursday night at Amailie Arena.
On today's show, Rock talks the Tampa Bay Lightning ahead of tonight's game with the Toronto Maple Leafs. The Bolts are leading the league and looking to continue a nine-game win streak at home. Plus, Rock talks Bruce Arians, Brent and Miko Grimes, college football transfers, the new USF Offensive Coordinator Kerwin Bell, and much more!
On today's show, Rock talks the Lightning's big win over the Toronto Maple Leafs. Plus, Rock talks the Bucs as they prepare to take on the Ravens and Lamar Jackson, Dana White and Oscar De La Hoya trash talk, college football, the Rays, and much more!
On today's show, Rock talks the Lightning ahead of their big game with the Toronto Maple Leafs. Andrei Vasilevskiy will make his first start since breaking his foot six weeks ago. Plus, Rock talks the Rays as they make off-season moves, college football, Dirk Koetter, and much more!
Bryan Berard is the latest former National Hockey League player to sue the league because of long term impact injuries he suffered, including the loss of an eye, during his career.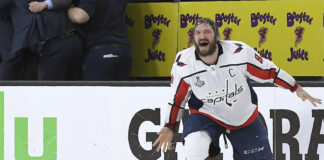 Running an NHL franchise requires a lot of nuance and attention to detail, but our NHL analyst Chris Lynch believes that building a true Stanley Cup Contender is relatively simple. All a team needs: A true #1 center, a great goaltender, and a top defensive pairing that can set the tone.
After tonight, one of the NHL's best teams will be out and the survivor will face the Tampa Bay Lightning. Game Seven is already the most exciting phrase in hockey, but despite only being a first round series, tonight's Game Seven will be a touch more special.
https://embed.air.tv/v1/embed/cD3YUJ0pTCu8EioIMYr-XA/oTBxQb-0S56gkw7m9smoBQ?video_sizing=fixed&video_width=560&video_height=315&show_player_title=false&show_div_title=false&show_div_description=false Tampa Bay was down 3-0 before turning it around The Tampa Bay Lightning looked like their goose was cooked late in the second period. They...
Lightning Cap Busy Day With Character Win Brayden Point scored the only goal in the shootout and Andrei Vasilevskiy stopped all three shots he faced...