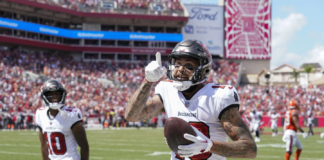 By: Garrett Ballard The Tampa Bay Buccaneers beat the Chicago Bears 27-17 in their first home game of the season. Contributions on both sides of...
DALLAS - AP - Even though the Dallas Cowboys still have a path to the playoffs, there's a feeling of inevitability in one of...
It is an added promotion. https://www.youtube.com/watch?v=_g7z3NBf11U Remember when American-based sports organizations such as the National Football League considered legalized sports gambling strictly taboo? It seems like a...