Home
Tags
Cleveland Browns
Florida News: Cleveland Browns
The research continues. https://www.youtube.com/watch?v=hyaFvRuKzVg The National Football League season is at the quarter...
The bully pulpit worked. https://www.youtube.com/watch?v=XJEOdJkFVgM Washington's D. C. Stadium will...
Don Garber and the owners can take another look. https://www.youtube.com/watch?v=OmX2fWzeW_U Add the name Ron Burkle to the list of people who might interest Major League Soccer...
Alphabet football  leagues are popping up. https://www.youtube.com/watch?v=brhayDg4Vi4 There is a new football league trying to establish itself and its odds of succeeding are not very good....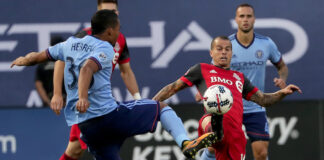 More teams coming? https://www.youtube.com/watch?v=JlRV7O9nPRY St. Louis sports consumers and fans know they will be getting a professional football team in town in 2020 when Vince McMahon's...
On today's episode, Rock discussed the Bucs beating the Browns in OT with 59-yard FG and why their defense was better this week. Rock also discussed the Jacksonville Jaguars struggles on offense and why Blake Bortles was replaced by backup QB Cody Kessler during their game against the Houston Texans.
With less than two minutes to go in the overtime period, Chandler Catanzaro connected on a 59 yard field goal. The Tampa Bay Buccaneers and Cleveland Browns fought a battle of attrition all afternoon on Sunday, complete with sloppy football on both sides and enough missed opportunities that even the winning team will be kicking themselves.  The 26-23 win brings the Buccaneers to an even 3-3.
On today's show, Rock is discussing the fan interference controversy that robbed Jose Altuve of a two run homer during Wednesday's game 4 of the ALCS. The Houston Astros would end up losing by two runs 8-6. Do you think this controversy will rob the Astros from going to the World Series?
In Ohio, sports lobbying groups want politicians to open the state vault and send them money helping sports organizers attract events such as the National Football League Draft in Canton at the Pro Football Hall of Fame in either 2019 or 2020.
Baker Mayfield replaced injured starter Tyrod Taylor and sparked the Browns, who got two 1-yard touchdown runs from Carlos Hyde and beat the New York Jets 21-17 on Thursday night for their first win since Dec. 24, 2016.