Home
Tags
College World Series
Tag: College World Series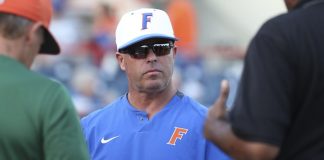 The Miami Hurricanes, and the Florida Gators will host NCAA baseball regionals while the Florida State Seminoles will be in the Auburn region as...
OMAHA, Neb. (AP) — With half his roster unavailable because of COVID-19 issues, North Carolina State coach Elliott Avent gave his remaining players two...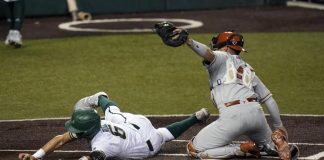 AUSTIN, Texas (AP) — Trey Faltine drove in three runs with a pair of doubles and Cam Williams hit a two-run home run in...
OMAHA, Neb. (AP) — Rich Tokheim's sports apparel shop is right across the street from TD Ameritrade Park. More than half his annual revenue...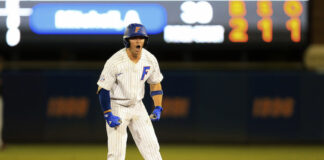 Austin Langworthy's home run off Steven Williams' glove in the 11th inning gave overall top seed Florida a 3-2 victory against Auburn in the deciding game of their NCAA super regional Monday night.
Maybe this wasn't Florida coach Kevin O'Sullivan's best team. It is, however, his first national championship team. A year after the Gators went two games and out at the College World Series with a team seeded No. 1 and loaded with high draft picks, they won five of six in Omaha and completed a sweep of Southeastern Conference rival LSU in the finals with a 6-1 victory Tuesday night. The Gators scored four runs in the eighth inning to pull away and now, for the first time in the program's 103-year history, the championship trophy will be with the team when it travels back to Gainesville.
Alex Faedo dominated TCU for a second straight time, and now he and his Florida Gators teammates will face a familiar opponent in the College World Series finals. The Detroit Tigers' first-round draft pick pitched three-hit ball for 7 1/3 shutout innings to lead the Gators to a 3-0 win Saturday night, setting up an all-Southeastern Conference best-of-three finals against LSU beginning Monday. No. 3 national seed Florida (50-19) is in the finals for the first time since 2011 and looking for its first championship in baseball. Fourth-seeded LSU, which shared the SEC regular-season title with the Gators, advanced with a 6-1 win over No. 1 Oregon State on Saturday.
TCU coach Jim Schlossnagle had to admit he was a little worried when Florida starter Jackson Kowar struck out seven of the Horned Frogs' first eight batters in their College World Series game Friday night. TCU won 9-2 over the Gators setting up tonight's elimination game. Today it will be LSU-Oregon State (3 p.m. ET, ESPN), followed by TCU-Florida (8 p.m. ET, ESPN), with the winners to play Monday night in the first game of the championship series. You can hear the game by clicking here.
Tonight at 7 p.m. the University of Florida Gators will face a Texas Christian University team they beat 3-0 earlier this week. If the Gators win tonight they will advance to the best two out of three College World Series, if they lose they will face TCU one more time with a chance to get to the finals.
Florida entered the College World Series last year with eight players taken in the first 10 rounds of the 2016 Major League Baseball draft and was an overwhelming favorite to win its first national title in baseball. The Gators scored three runs in 18 innings and became the first Southeastern Conference team since 2007 to go two games and out. This year, with 16 freshmen and sophomores and two 2017 draft picks, the Gators have allowed one run in their first two games and are one victory from playing in the best-of-three finals next week.