Home
Tags
Philadelphia 76ers
The Oak View Group is going global. https://www.youtube.com/watch?v=fEm7fPzikAA The Oak View Group is one of the big winners in Italy's successful bid in landing...
JJ Redick hit a 3-pointer with 17 seconds left to lift the Philadelphia 76ers over the Orlando Magic 116-115 on Saturday night.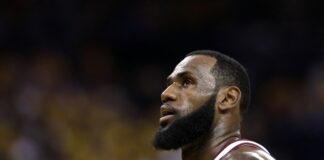 Will he stay in Cleveland? Head back to South Beach and play with the Heat? Explore his creative side in Los Angeles? Stun the world by heading to Philadelphia? then there is Houston and San Antonio where he could land.
The Stanley Cup Playoffs aren't the only postseason well underway.  The NBA is into the second round as well, and Erik Kuselias talked with Steve Kyler of basketballinsiders.com about the various matchups.
Joel Embiid and Ben Simmons shined again in front of rapper Meek Mill, and the dominant duo ushered the nightmares-into-dreams Process of the Philadelphia 76ers into the second round with a 104-91 win over the Miami Heat on Tuesday night.
Dwyane Wade snuffed out one 76ers' rally by popping a 16-foot fadeaway with the shot clock ticking down. Wade made a halfhearted attempt at reaching his hand out toward a fallen defender before he scooted on his way.
INDEPENDENCE, Ohio (AP) — LeBron James has Philadelphia's basketball pulse racing. The NBA superstar still hasn't seen three billboards urging him to join the 76ers,...
Our own Anthony Abruzzo joins the show When the news broke over the weekend that the Boston Celtics and Philadelphia 76ers were swapping draft picks,...