LSU was sixth and Southeastern Conference rivals Florida and Georgia were tied for seventh. Texas was ninth, its best final ranking since 2009 when the Longhorns finished second after losing to Alabama in the BCS championship game.
Tyler Bradley and Timothy Mallard bring you Tampa Bay Sports This Morning! The Bucs are searching for a head coach, who have they talked to and who will they talk to? Graham Hall of the Gainesville Sun and GatorSports.com joins to discuss the University of Florida's Football and Basketball teams. The Magic Blow out the Bulls by nearly 30. The NHL All-Stars have been announced, who got snubbed in Tampa Bay? And what on Earth is a Champ Stamp?
In about one month's time, a number of state legislatures across the United States will address the issue of legalizing sports gambling. But in one state, Arkansas, the issue has been settled.
Major League Baseball Commissioner Rob Manfred didn't exactly leak state secrets when he said work is needed to get funding for the proposed Tampa Bay Rays' Ybor City stadium.
Florida Senator Marco Rubio doesn't think it is a very good idea for China to host the 2022 Winter Olympics.
The National Hockey League has not yet awarded Seattle an expansion franchise but another expansion contender maybe available and the most influential owner in the league is interested.
It is back to the drawing board in Jupiter, Florida for the owners of the St. Louis Cardinals and the Miami Marlins and local officials who are discussing how to proceed with plans to renovate the spring training complex in the town
People now know that the Tampa Bay Rays ownership has a stadium design and a spot in Ybor City for that stadium. The ownership group has identified what type of fan they want in the building.
Homestead 's baseball dream crashed because of the 1992 hurricane. https://www.youtube.com/watch?v=KikCGl-AmSA The end is seemingly near for a spring training complex that was never used by...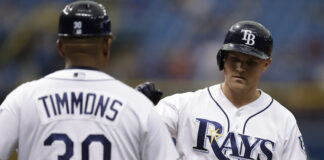 The owners of the Tampa Bay Rays think they will have a much better understanding of the franchise's future sometime in the foreseeable future, perhaps as early as the end of the year or the beginning of spring training in February 2019.