Florida News: Houston Astros
It is a money maker. https://www.youtube.com/watch?v=O5dHLpv8KCY National Football League players will soon be starring...
The Tampa Bay Rays defeated the Houston Astros 3-1 on Sunday afternoon to win their first series of the season by taking 3-of-4 from Houston. 
Tyler Glasnow worked five solid frames and for the second night in a row the Rays 'pen went four scoreless frames en route to a 3-1 Rays win.
David Price put his postseason woes behind him, pitching the Boston Red Sox back into another World Series with a 4-1 victory over the defending champion Houston Astros on Thursday night.
Left fielder Andrew Benintendi made a diving catch with the bases loaded for the final out, and the Boston Red Sox held off the Houston Astros 8-6 on Wednesday night to take a 3-1 lead in the AL Championship Series.
David Price was good enough, the Red Sox bullpen was even better, and Jackie Bradley Jr. delivered a go-ahead, three-run double off the Green Monster on Sunday night to lead Boston to a 7-5 victory over the Houston Astros and tie the AL Championship Series at one game apiece.
Tyler Bradley and Timothy Mallard bring you Tampa Bay Sports This Morning! Tyler Bradley was at 1 Buc Place for practice on Wednesday, what did he see? What do the Bucs need to do ahead of their matchup with the Falcons on Sunday?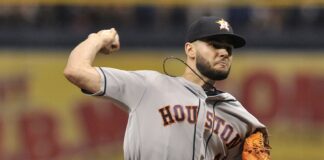 Houston pitcher Lance McCullers Jr. has offered advice and a free playoff ticket to an 8-year-old special needs girl who apparently was yelled at by another fan for loudly cheering at an Astros game.
Mallex Smith's solo homer in the bottom of the eighth was the eventual game winning run as the Tampa Bay Rays defeated the Houston Astros 3-2.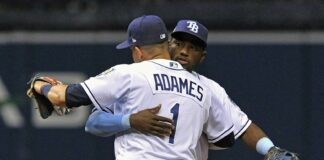 The Tampa Bay Rays defeated the Houston Astros 3-2 but lost Wilmer Font to a lat strain. According to Manager Kevin Cash, expect Font to miss significant time.