Florida News: North American
If at first you don't succeed Mr. Hansen.... https://www.youtube.com/watch?v=LuRgrQBibc8 You have to...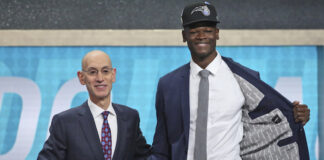 Going global. https://www.youtube.com/watch?v=MGnVq_98erQ While the National Basketball Association daily story seems to have drifted into soap opera land whether it is a storyline about LeBron James...
Indian rupees are appealing. https://www.youtube.com/watch?v=-JlSb4XUKI4&t=5s The National Basketball Association is going to India to play pre-season games in the fall of 2019. It is the first...
Major League Baseball is in the middle of its All Star tour of Japan. Recently, National Hockey League Commissioner Gary Bettman said the league has plans to stage 2019 pre-season games in Germany and Switzerland with regular season games in Prague, the Czech Republic and Stockholm, Sweden.
In the international growth plans of the National Football League, it didn't seem that the league was too interested in making Wembley Stadium in London a permanent home.
The National Basketball Association season is underway but the Commissioner Adam Silver, his staff and the 30 owners are looking into the future and expanding the brand.
The race for the 2026 World Cup has started. Given the state of the world, it is probably a wise thing that North America's bid...