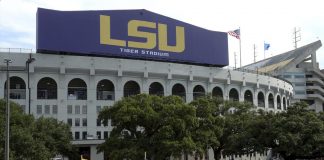 The college sports business needs scrutiny. https://www.youtube.com/watch?v=l0CNO-xeyAs The Southeastern Conference poached the University of Oklahoma and the University of Texas from the Big 12 Conference. The...
They keep playing. https://www.youtube.com/watch?v=wXkCOeF5MPI It is almost a normal college football season, oh sure neither the Pac 12 nor the Big 10 conferences are playing...
On today's show, Rock talks the Bucs upcoming matchup with the Carolina Panthers. Plus, plenty of college football talk heading into conference championship Saturday, heavyweight boxing, and much more!
The Badgers Were Able To Capitalize On The Hurricanes' Miscues In The Orange Bowl: The Takeaway Miami Gardens, FL -- Miami (10-3, 7-1 ACC) entered Saturday's...
The Miami Hurricanes will square off against the Wisconsin Badgers on January 1st, at 8 pm on ESPN. Both teams are built similarly due to good coaching, strong defenses, reliable running games, with up and down quarterback play. Also, both teams have their share of significant injuries.