MLB is a year long business. https://www.youtube.com/watch?v=LLL_9D8iYgE There was an old-time tradition that seems to have disappeared. The countdown to when pitchers and catchers report to...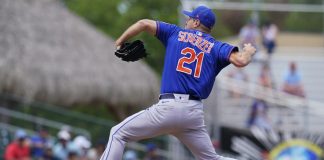 Baseball is no longer king. https://www.youtube.com/watch?v=bZ018hDNzRI&t=2s It is Opening Day of the 2022 Major League Baseball season. At one time the words "Opening Day" was a...
The Major League Baseball All Star Game was supposed to be a celebration of the game, the best of the Boys of Summer on display for an international audience. But something clearly was wrong.
It's America's 242th birthday and there is a big question about the Major League Baseball industry. Why has in park attendance dropped to its lowest level in 15 years?
The boys of summer start in the winter but stadium problems are a four season problem. https://www.youtube.com/watch?v=maP-3US2i80&t=7s The boys of summer get back to the work...