Florida News: Columbus Crew
Having played in three of the previous four MLS Cup finals, the Seattle Sounders know what to expect on this stage.
Mixed bag on arena/stadium construction.   https://www.youtube.com/watch?v=n5QMQhbOVBw The COVID-19 outbreak has not only...
The MLS still isn't sure of what it is. https://www.youtube.com/watch?v=m5uMCIQqKxc If Major...
A sports league gets its way. https://www.youtube.com/watch?v=L941pc5LCIQ There is a ground breaking...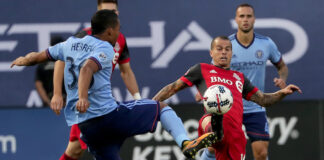 Growing pains. https://www.youtube.com/watch?v=o7jCVcGpxxw Just what sort of business do Major League Soccer franchise owners want? It seems a bit unclear at the moment because the owners...
In Ohio, sports lobbying groups want politicians to open the state vault and send them money helping sports organizers attract events such as the National Football League Draft in Canton at the Pro Football Hall of Fame in either 2019 or 2020.
Remember when Major League Soccer wanted to expand by four teams and was in what appeared to be a major rush to find four cities and four owners who had what it took to join the club?
The struggle to find cities with the right stuff to join Major League Soccer continues but league owners should be happy with some of the latest developments.
Major League Soccer is waiting for the Austin City Council's decision to give the go ahead to a soccer stadium plan that would allow Precourt Sports Ventures to move its Columbus Crew franchise to the Texas capital in 2019.
Austin, Texas could have a Major League Soccer team soon if the city council decides to go ahead and finalize stadium plans that would bring the Precourt Sports Ventures owned Columbus Crew to the city.